Rice-stuffed peppers like these are an easy, healthy, Mediterranean-style side dish. Cooked rice is mixed with sauteed onions and garlic, as well as raisins and ground almonds. Stuff the delicious mixture into bell pepper and bake.
Ingredients:
2 cups cooked brown rice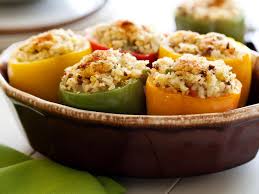 1/2 cup (100 gr) almonds
4 yellow, red or green bell peppers
½ cup olive oil
2 medium onions
3 garlic cloves
1 ripe tomato
4 fresh figs or 1/4 cup golden raisins
salt and pepper to taste
2-3 Tbsp chopped fresh parsley
Instructions:
Cook brown rice in steamer or saucepan. Set aside.
Grind nuts in a food processor until finely chopped, then set aside.
Heat the oven to 375F (190C).
Cut peppers in half lengthwise, or crosswise, depending on their shape. (The peppers should be able to sit level, and not tip or roll.) Remove seeds and membrane. Leave the base of the stem on because this will help the pepper keep its shape after roasting.
Finely chop the onions and garlic. Cut tomato into eight pieces. Sauté in a large, heavy-bottom frying pan on medium heat until onions are translucent. If using raisins, drain water and to frying pan and mix. Stir in the tomatoes and 1/2 cup almonds. Add salt and pepper to taste. Continue to cook 1-2 minutes, then remove from heat.
Then, spoon rice mixture into the peppers. Clean off any rice that sticks to the rims of peppers, as it may burn. Sprinkle chopped parsley on top. Place peppers on a cookie sheet. Bake in oven for 20 minutes.
Remove from oven and sprinkle ground nuts on top. Return to oven for 20 more minutes.