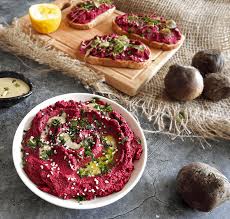 Beetroot hummus is low in sugar, salt and saturated fat and takes just ten minutes to make. It is the perfect dip to accompany vegetables and pittas as part of a quick and healthy meal. It makes a great packed lunch too.

Ingredients

1 can chickpeas (430g), drained and rinsed

2 medium cooked beetroots

2 cloves garlic

zest a

nd juice from 1 medium lemon

2-3 tablespoons tahini & olive oil

¼ tsp salt & ½ tsp ground cumin
Place the beetroots, chickpeas and garlic into a food processor and process for 1 minute until ground. Add all the remaining ingredients and process until creamy. It should have some grainy texture, that's ok.

Adjust seasonings, adding more salt, cumin, olive oil, or lemon juice if needed.

Refrigerate or use immediately. I like to serve it at room temperature.

Beetroot hummus will keep in the fridge, covered well, for 4-5 days.